ADOPTION DAYS AT PETCO ON SUNDAYS
WOODLANDS
CALL (281) 367-1440 For Dates and Times!
For our most current listing of rescues available for adoption, please visit our petfinder list at: bostonterriers.petfinder.com
Each Boston Terrier has their own unique personality, and is just waiting to give you their unconditional love. Because we have lovingly nurtured each and every one of them, we admit that we are a little particular about their new homes. We want them to be happy and well-adjusted, and therefore use an application process to attempt to properly match each rescue to their new forever home.
If you would like to be considered as a potential parent for one of our rescues, please download
the application on the Adoption page and email it back to us. And thank you for your interest in rescue!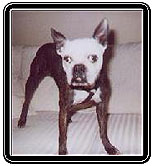 Gomez has been adopted and is now living with adopted brother Bear (both deaf boys) with Becky and Bill in Houston! Background: What a sweet and handsome boy Gomez is! Poor little Gomez was dumped into a drop box at the Texas City shelter. He has very unique markings - black with a lot of brindle, solid white face and little black ears like Mickey Mouse! Gomez appears to be completely deaf. He is a quiet boy, other than when he decides to bark at something - then he is VERY loud due to his deafness! Gomez appears to be right around 3 years old.